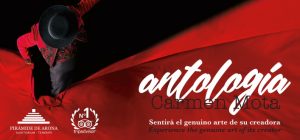 Come to the Pirámide de Arona and see the performances of Carmen Mota, an artist and internationally renowned choreographer who has dedicated her whole life to Spanish dance. This love is reflected in each one of her shows, where the audience is thrilled by her personal sense of ethics. Her artistry is recognised throughout the world, her innovative choreography and variety of style are a fusion of modern and traditional Spanish dance.
Carmen Mota show currently playing:
Synopsis
After almost 40 years leading her company and constantly evolving, Carmen Mota includes in this show some of the most important choreographies of her career, which best define her own personal aesthetic language. The show focuses especially on the choreographies that have been performed over the past two decades in the Pirámide de Arona Auditorium in Tenerife.
Tradition and modernity come together in Antología, a history of the choreographies by Carmen Mota Compañía de Danza, a dance company that has known how to explore the richness and variety of traditional Spanish and bring it to the audience with an innovative and modern insight.